Board of Directors
Amran bin Idris
Executive Director
Muamar bin Mohd Mokhtar
Executive Director
Azlizan bin Mohd Nayan
Executive Director
Norazlina Bujang @ Kassim
Executive Director
Departments
Hasnoor Ismail Head of Department
Introduction
Technology & Managed Services providing an outsourcing of IT management.
Department Objective
Customer Care & Helpdesk:
To be single point of contact
To receive analyze, register and classify the incidents
To undertake an immediate effort in order to restore a failed IT Infra/Service as quickly as possible (according to SLA)
To conduct the incident escalation management to technician or engineers
To track and monitor all received incident
To monitor, track and manage PM schedule
To escalate issues or problems detected after the PM activities
To gather & compile PM reports
Technology and Managed Services provides a comprehensive outsourcing of managed ICT services to customer.
ICT high end servers & storage
Virtualization and consolidation of server & storage
Networking security & integration
Desktop management and managed workplace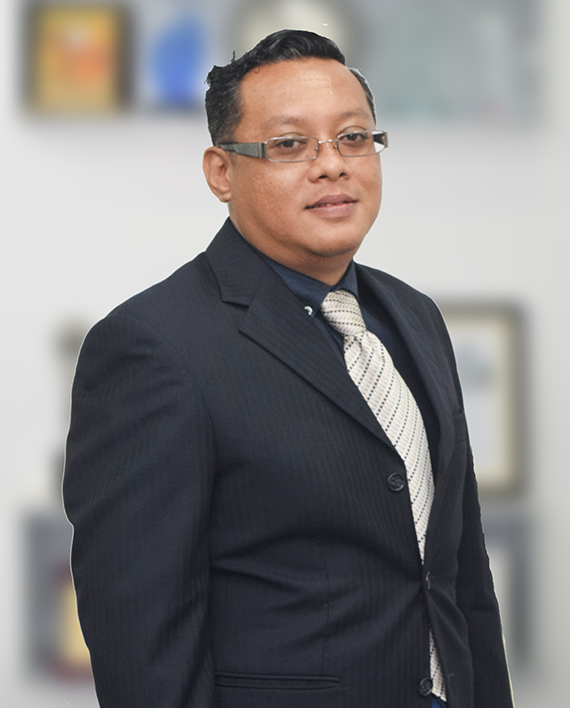 Muhammad Faizal Bin Arishah Head of Department
Introduction
Delivering ICT solutions through well trained and experience personnel who had deployed various solutions and/or products. Develop custom-made applications or systems to suit client business operation, services by adopting new technology, in-house software & services products and vast combination of experience skills team in various software technology.
Department Objective
The services consist of implementation, maintaining and support of:
Solution architecture
System analysis & design, system development via structured programming
Integration & migration services
Software Development and R&D
PHP (Advanced Codeigniter Framework)
Smartcard (Contact & Contactless)
Android
Professional & Software Services provides software development life cycle from ground zero
Ahmad Fairuz Bin Mohd Nor Head of Department
Introduction
Project management implementation approach based on PMP standard of ten knowledge area with forty-seven processes.
Department Objective
Initiating project by recognizing a project or phase should begin and committing to do so.
Ensuring the project objectives are met by monitoring and measuring progress and taking corrective action when necessary.
Planning to maintain a workable scheme to accomplish the business need that the project was undertaken to address.
Formalizing the acceptance of the project or phase and bringing it to an orderly end.
Mohd Iqbal Sirajudin Head of Department
Introduction
PreSales Support & Channel Services is comprised of two main units namely:
PreSales Support
Channel Services
Department Objective
PCS aims to understand what the customer needs, develop an initial view of the solution the customer needs, then tailor the product or service of our company to meet what the customer needs, explain (or help sell) this solution to the customer, help close the deal or sale and often stay on to ensure that the delivery team or product specialists that follow him provide the intended solution.
The services consist of streamlining of all the following activities within 3F group of companies with a proper bid team establishment and quality submission.
Tender, proposal
Quotation
Varaiation Order (VO) Change Request (CR)
PCS is also responsible for Strategic Partnership Establishment, Strategic Partnership Management and Product Portfolio Management.
Ainal Idham Saidin Head of Department
Introduction
The special projects department is a department directly under the board of directors.
Department Objective
Undertakes specific projects and tasks assigned by the BOD
Building up the service delivery management services and organization
To centralize post project delivery support and activities
Specific technical, functional and organizational assistance, to other departments and projects
Hafizah Ibrahim Head of Unit (Admin Department)
Introduction
Administration Department's function is to handle organization, planning and easement of standards. We also provide support for all tasks. We also provide support for all tasks; headquarter & at site.
Department Objective
Project Administration
Prepare documentations and needs for project management.
Issue permits and licenses
Registration & Licences, renew and keep track on licensing and company registration.
Office Building Maintenance
Responsible for the up keep and maintenance of our building, structural, electrical, mechanical and plumbing systems.
Office and Personnel Belongings
Manage the filing, storage and security of documents. Manage the repair and maintenance of computer and office equipment.